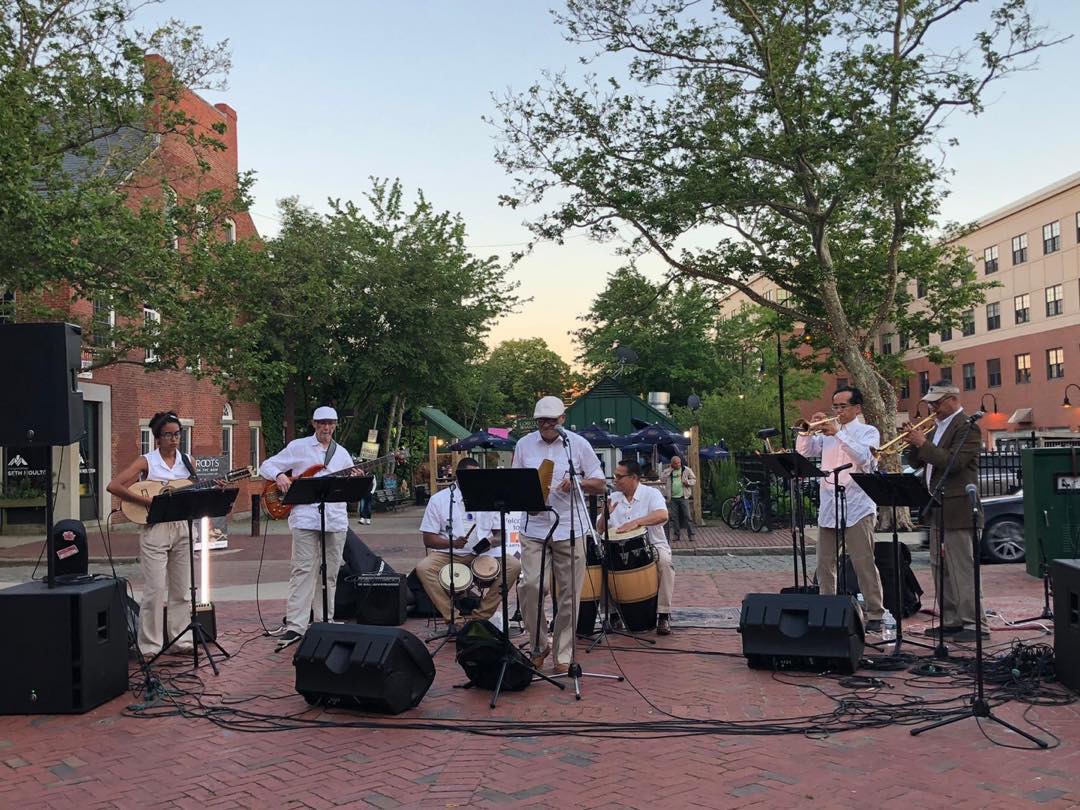 CranJam 2019 10th Anniversary
AT THE HARWICH CRANBERRY FESTIVAL
ADMISSION: FREE! DONATIONS WELCOME!
All times approximate; order of performers subject to change.
Wooden dance floor under the tent. Rain or shine!
Bring a chair or blanket to sit on and stay for the day.
FIREWORKS begin at dark Saturday at the end of the final set by Entrain
Saturday September 14 2019 12 Noon -8:00 PM
HARWICH COMMUNITY CENTER 100 OAK STREET HARWICH CENTER
times approximate and subject to change
12:15-1:45 entrain

2:00-3:30 DIRTY WATER DANCE BAND

4:00-5:15 GRUPO GOZARSA

5:45-7:45 BRUCE MACLEAN & (the legendary Cyclones) performing as THE TORNADOeS

FIREWORKS TO FOLLOW!!
Sunday September 15, 2019 12 Noon -3:00 PM
12-1:15 CRAIG CARTER AND THE HURRICANE

1:30-2:45 DANIELLE MIRAGLIA & THE GLORY JUNKIES

2018 BOSTON MUSIC AWARD "BLUES ARTIST OF THE YEAR" NOMINEE
more about the bands:
BRUCE MACLEAN & THE TORNADOS
Bruce Maclean and his legendary Cyclones will celebrate our resilience at 2019 CranJam performing as Harwich's own Tornadoes! Their straight out rock 'n' roll will keep the groove going with party music only a few hundred yards from where the tornadoes touched down, that once in a lifetime (we hope) experience, as we celebrate the 10th Anniversary of CranJam. The Tornadoes play us right up to the FIREWORKS when it gets dark.
ENTRAIN
Epic in sound and kaleidoscopic in vision, the eclectic Martha's Vineyard-based six piece Entrain has been thrilling critics and fans alike since its inception in the '90s, winning multiple Boston Music awards along the way.
Entrain returns by popular demand.... this year, they'll kick things off on Saturday.

Formed by drummer Tom Major in 1993, Entrain is also lead singer/guitar wiz Brian Alex. Joining them is bassist M'Talewa, saxophonist/keys/percussionist Rob Loyot, saxophonist/percussionist Hilary Noble and Trombone/keys Lennie Peterson Veterans all, their collective resume includes stints with such diverse players as Bo Diddley, Carly Simon, Chuck Berry, Southside Johnny, James Mongomery, Flor De Cana, and Blood, Sweat, and Tears.

Entrain has recorded eight albums, available on Dolphin Safe Records, all of which have been praised for their ability to shift effortlessly between musical styles - from rock, blues, calypso and ska, to zydeco, jazz and funk - often within the same song.
DANIELLE MIRAGLIA & THE GLORY JUNKIES
Danielle M & The Glory Junkies is lead by Boston singer/songwriter-guitarist Danielle Miraglia. Their sound combines the blues rock vibe of The Rolling Stones and Janis Joplin with Danielle's signature lyrical ability to explore human nature at its best and worst.
**This just in...2019 Female Performer of the Year from the New England Music Awards**
All My Heroes Are Ghosts touches on a lot of what might be on your mind these days – the loss of so many musical heroes on the title track, the chaos of "fake news" on "Monster," our collective anxieties on "All On Fire," and more.
The music itself blends influences of some of Miraglia's own musical heroes - The Rolling Stones, Prince, Janis Joplin etc. with bandmates Laurence Scudder (Ryan Montbleau Band, Spotted Tiger), Erik White (The Brothers McCann), Jim Larkin (Jesse Dee Band) and Chris Anzalone (Room Full of Blues, The Revelations). Recorded with Dave Westner at the legendary Woolly Mammoth Sound in Waltham, MA.
"The first time that I saw one of her live shows, Danielle Miraglia's intoxicating brand of hot bluesy music, built on an underpinning of scorching guitar riffs, melted the chill off the bitter cold New England winter night in an instant. Truth be told, I don't believe that there's an audience anywhere who wouldn't be blown away after seeing a performance by this gifted Boston-based singer, songwriter, and guitarist extraordinaire. From her opening song, she lights up the darkness and explodes like a tsunami roaring across the open waters of the ocean." - Paul Collins, Nashua Telegraph
DIRTY WATER DANCE BAND
This refreshing, all-star cast merges funky reggae grooves with soulful vocal harmonies and delivers a musical experience that moves your body and soothes your soul. Cape Cod's hottest band this summer!
GRUPO GOZARSA
Gozarsa lays down a beat that sets your feet on fire from traditional to contemporary Afro- Cuban (Salsa music). Bringing the audience to their feet, the 7-piece band plays traditional Latin standard with two Trumpets, Congas, Bongo drums, Bass, Cuatro guitar and lead vocals. They play Afro-Cuban clave-based rhythms with jazz harmonies and techniques of improvisation and a variety of tropical music everyone loves. Come and dance!!
CRAIG CARTER AND THE HURRICANE
When you think of Craig Carter and The Hurricane, think Neil Young meets Jeff Beck.
Calling on many decades of varied musical experience, their repertoire encompasses a diverse mix of Rock, Blues, Americana and Original Material. With their excellent musicianship and four part vocals, they seamlessly blend original material along with deep covers by bands such as the Beatles, Steve Earle, the Wood Brothers, the Stones, the Allman Brothers, Neil Young, Delbert McClinton, Muddy Waters and countless others.
Their upbeat folksy style and brotherly interaction invite you to join them on a musical ride you won't soon forget!